A couple weeks ago, in the Open Web Leadership call we talked about the last iteration of the Open Leadership Map (OLM) (notice: this call has been changed! New pad + details here). One of the things that we discussed was the idea that theory and practice are too often separated – that understanding theory is important for improving practice, but practicing is important for understanding. It's cyclical, so trying to divide the competencies we believe are necessary for leaders in the Open Community into arbitrary theory/practice based groupings is simply not necessary. Upon conclusion of that discussion, we decided to collapse the "Understanding: Participatory Learning" and the "Facilitating: People, Processes and Content" strands together.
Makes sense, right? To have "what you need to know" and "how you wield what you know" as "What you need to know and how to wield it"?
While working through this, I made some decisions based on our conversations, so I'm particularly interested to hear your thoughts on how this worked out: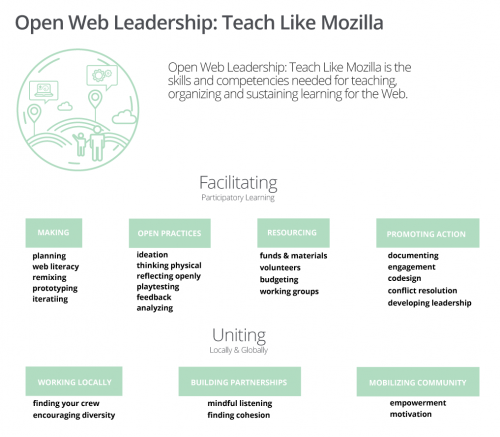 First, as discussed, "Making" replaced "Prototyping" as the competency, and I moved Prototyping as a note on topics to cover (we may yet get to the granularity of skills!). Next, I moved "Open Practices" and looked at "Making" and "Open Practices" in concert. Design thinking, it was noted, fits well under making, but what seemed to work better was exploding the term "design thinking" into the steps in the process and organizing them under these two competencies. It was here that I started moving around what I viewed as mainly thinking versus mainly producing – to clarify, I say "mainly" because we are constantly producing AND thinking with our methods, so Making + Open Practices are always in concert with one another (for open leaders anyhow).
Aside: We had discussed that the terminology "Open Thinking" isn't right, but I did find it difficult to not want to address just how brain-heavy ideation, reflection and analyzation can be. Also, I sort of threw out "Connected Learning". I was thinking that "Connected Learning" as a model comes in during a content step, rather than a meta organizing step. Though, at the same time, I found that "web literacy" as a model can be included because I feel that web literacy directly contributes to the ability to make, teach, organize and sustain learning for the web.
All of this was the hard part of the iteration. Afterwards, I simply moved all the topics from under participation to under "Promoting Action" because designing for participation is about promoting action IMHO. I also see a congruency between "promoting action" and "mobilizing community", so I'm looking forward to continuing the conversation.
Another thing we should talk about – naming for this strand – in the meantime, I called in "Facilitating: Participatory Learning".
Looking forward to hearing what folks think! Join us on June 2nd 16:00 UTC (18:00 CET / 12:00 ET / 09:00 PT) and share your thoughts, or leave a comment / tweet at me / tweet using #teachtheweb or send me an email :D