Last week, we gathered ThinkBig program heads, educators, partners and technologists in London to run a workshop on Webmaker and open collaboration. We had a lot of goals for this workshop, but my main objective was this one:
Accept one another as a valuable ally and feel confident in reaching out to ask for or provide feedback.
I wanted to make sure all the people who came to this workshop knew that they could rely on me, personally, the TeachTheWeb team generally and Mozillians writ large. I also wanted to make sure that they saw each other as allies inside Telefonica.
At Mozilla events, we encourage participatory interaction, which underpins communication on the web (because you have to both push and pull in order to be a digital citizen), and we deliver digital skills as a byproduct of the cognitive and social skills that are arguably more important in the digital environment and in life.
Hanging out with the 40 or so adults from the UK, Germany, Spain and Costa Rica (plus my fantastic co-facilitators Melissa and Bobby) it solidified for me that I don't actually teach digital skills all that much. I could, but I rarely do. At the beginning of our two-day workshop, we created mindmaps to define the problems Telefonica is dealing with. What I saw reflected in that thinking was fear. Fear of failure. Fear of looking bad at work. Fear of looking stupid in front of youth. Fear of the unknown.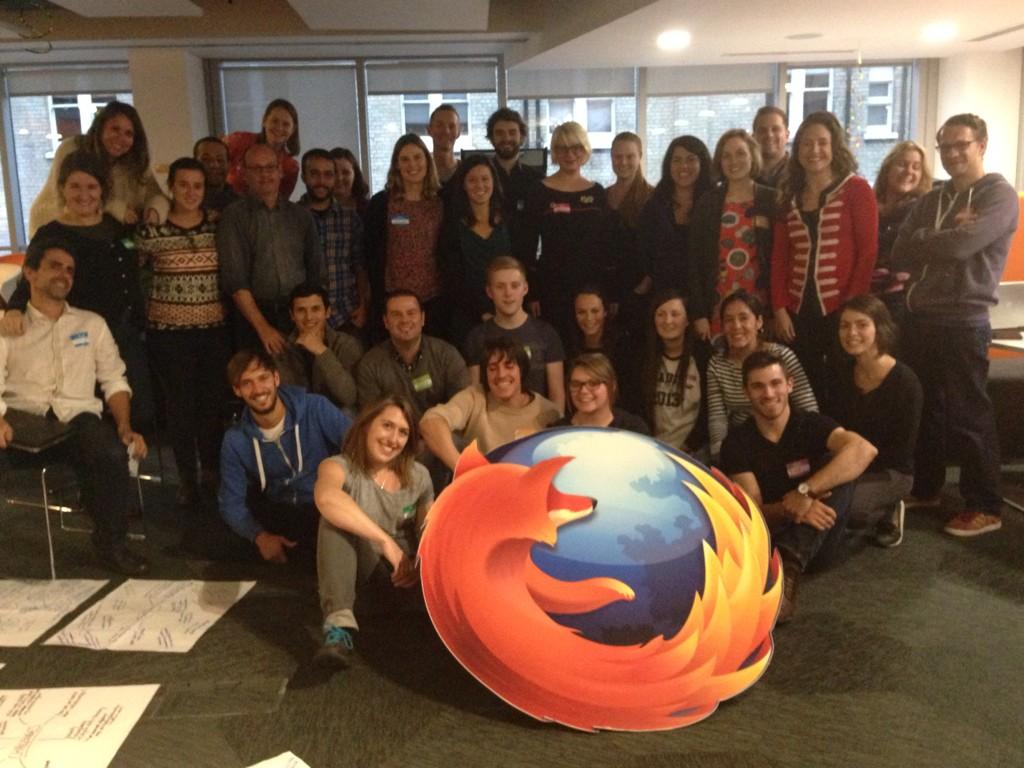 I teach confidence. I teach agency. I teach people about the true nature of fear, I teach participation and I teach openness. I knew this, but the confidence, agency and fear bit has never been so prevalent in my own head. I'm starting to think about how working openly can contribute to your confidence and the idea that openness can negate isolation, not only from the work perspective but from that deep dark place that people have inside. You know the imposture syndrome? Can it be that openness is the antidote? How does ego and entitlement play in here? I believe that webmaking can be a conduit for self development, so how can we design materials that help educators see that more clearly?
I'm interested to keep these queries in mind when I plan another event like the Telefonica + Mozilla training. This particular workshop felt really good. We collaborated to create a good arc, I felt confident about it, it seemed like people were happy, like they learned. They made amazing, interesting things.
I worry that we could have done more to help people level up their digital skills, but I let myself off the hook on that one because two days is such a short amount of time. I think about creating programming like this that isn't a one-off (e.g. I want to run multiple workshops for passionate people like these folks.) Perhaps we should think about a reunion which unpacks how the lessons of the first workshop influenced a year of work, and dive down into specific digital skills that the participants still feel are lacking.
The folks who showed up to the Telefonica Training in London showed up strong. They dove in, they made things, they took notes, they collaborated and were honest and were present. We only started the work we have to do together, which is why I've started a new Discourse Category called "New to Open". I hope Discourse continues to be a place to find collaborators, share things, and explore what it means to work openly (among other relevant discussions).
The open community should continue to be curious and start reaching outside of our comfort zones to work together with people in other industries. If we start utilizing one another's skills and expertise in a more conscious way, perhaps we can start making more impact in the public sphere.