The 4th Thursday of Every Month is going to be fun!!
Yesterday we had our first monthly Mentor Call, where Webmaker Mentors gather to meet one another, talk about our experiences as we #teachtheweb and throw Maker Parties, laugh at our failures, cheer each other's successes and just have a time for us to support one another.
Oh, and we use the time to make silly pictures.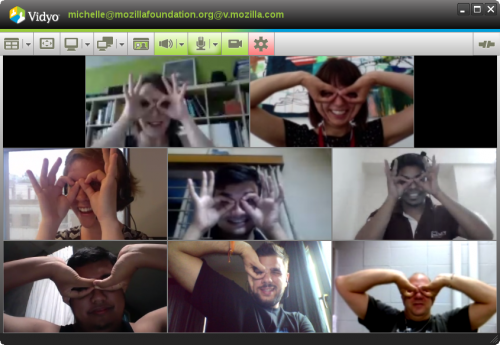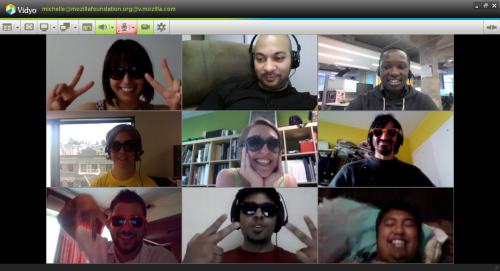 The first 5 minutes, we chit-chatted and welcomed each other to the call, while we waited for everyone to arrive. Then we quickly explained the purpose (above) and the technology so any newcomers could settle right in.
Our first activity was silent etherpad hacking, a tried and true method of together brainstorming and documenting. The question was "What's your favorite experience in the last week?" I don't know if you're aware of this, but the Webmaker Mentor Community is global, so our silent etherpadding led to a diverse collection of interesting links, ideas and actions. For example:
In the USA: Hive NYC Maker Ed Maker Corps interns planned and delivered  Maker Parties in NYC Summer School. http://hivemakercorps.weebly.com/
In Germany: @empeiria played with popcorn, hacked a MOOC + OER video AND made two german Translations of Infographics for OpenBadges
In Canada: Karen filed her first, second and third bug
In Serbia: Michelle got emotional and wrote what we were all thinking "Favorite experience in the last week? Seeing all these familiar faces on the call!" (Others agreed :D)
In Malaysia: Syafiq had an awesome prep meeting for Storycamp Malaysia
In India: Maker Party in Bangalore was part of Free Software Movement Karnataka. Was awesome :) See some pictures.
And there are so many more, check them out starting at line 58.
Next up, we talked about what had been frustrating lately. Along with being frustrated that the XRay Goggles are still in the shop and that Thimble has some bugs (which have been filed!), I was pleased to see that people wrote in things they would like to learn and ideas to deal with frustrations surrounding connectivity. It's really a great group, we asked for frustrations, we got solutions.
See the Etherpad at line 84 for more.
After celebrating Maker Party with a great share out from Amira (line 111), we talked about user testing and user feedback. We found a typo and scheduled some 1-on-1 time to talk about specific Webmaker things. Check out Lines 125 to 166.
Michelle introduced Mozfest and we had collective excitement over the most awesomesauce event of the year, and then we wrapped up the call with a little bit of a logistic discussion. Should we take more time for these monthly calls? Should we focus on specific themes? Check out what works and what doesn't starting on line 197.
All in all, great call! Looking forward to the next one!
Related articles