Ever since version 1 of the Web Literacy Map came out, I've been waiting to see people take it and adjust it or interpret it for specific educational endeavors that are outside the wheelhouse of "teach the web". As I've said before, I think the web can be embedded into anything, and I want to see the anything embedded into the web. I've been wanting to see how people put a lens on top of the web literacy map and combine teaching the web with educating a person around Cognitive Skill X.
I've had ideas, but never put them out into the world. I was kind of waiting for someone to do it for me (ahem Web Literacy community :P
Lately I've been realizing that I work to develop socio-emotional skills while I teach the web, and I wanted to see if I could look at the Web Literacy Map from a personal, but social (e.g. psychosocial) angle. What, exactly, does web literacy mean in the context of Identity?
Theory
First things first – there's a media education theory (in this book) suggesting that technology has complicated our "identity". It's worth mentioning because it's interesting, and I think it's worth noting that I didn't consider all the nuances of these various identities in thinking about how the Web Literacy Map becomes the Web Literacy Map for Identity.
We as human beings have multiple, distinct identities we have to deal with in life. We have to deal with who we are with family vs with friends vs alone vs professionally regardless of whether or not we are online, but with the development of the virtual space, the theory suggests that identity has become even more complicated. Additionally, we now have to deal with:
The Real Virtual: an anonymous online identity that you try on. Pretending to be a particular identity online because you are curious as to how people react to it? That's not pretending, really, it's part of your identity that you need answers to curiosities.
The Real IN Virtual: an online identity that is affiliated with an offline identity. My name is Laura offline as well. Certain aspects of my offline personality are mirrored in the online space. My everyday identity is (partially) manifested online.
The Virtual IN Real: a kind of hybrid identity that you adopt when you interact first in an online environment and then in the physical world. People make assumptions about you when they meet you for the first time. Technology partially strips us of certain communication mannerisms (e.g. Body language, tone, etc), so those assumptions are quite different if you met through technology and then in real life.
The Virtual Real: an offline identity from a compilation of data about a particular individual. Shortly: Identity theft.
So, back to the Web Literacy Map: Identity – As you can gather from a single theory about the human understanding of "self", Identity is a complicated topic anyway. But I like thinking about complicated problems. So here's my first thinking about how Identity can be seen as a lens on top of the Web Literacy Map.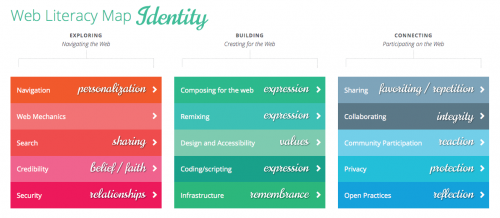 Exploring Identity (and the web)
Navigation – Identity is personal, so maybe part of web literacy is about personalizing your experience. Perhaps skills become more granular when we talk about putting a lens on the Map?
Example granularity: common features of the browser skill might break down into "setting your own homepage" and "pinning apps and bookmarks".
Web Mechanics – I didn't find a way to lens this competency. It's the only one I couldn't. Very frustrating to have ONE that doesn't fit. What does that say about Web Mechanics or the Web Literacy Map writ large?
Search – Identity is manifested, so your tone and mood might dictate what you search for and how you share it. Are you a satirist? Are you funny? Are you serious or terse? Search is a connective competency under this lens because it connects your mood/tone to your manifestation of identity.
Example skill modification/addition: Locating or finding desired information within search results ——> using specialized search machines to find desired emotional expression. (e.g. GIPHY!)
Credibility – Identity is formed through beliefs and faith, and I wouldn't have a hard time arguing that those things influence your understanding of credible information. If you believe something and someone confirms your belief, you'll likely find that person more credible than someone who rejects your belief.
Example skill modification/addition: Comparing information from a number of sources to judge the trustworthiness of content ——> Comparing information from a number of sources to judge the trustworthiness of people
Security – Identity is influenced heavily by relationships. Keeping other people's data secure seems like part of the puzzle, and there's something about the innate need to keep people who have influenced your identity positively secure. I don't have an example for this one off the top of my head, but it's percolating.
Building Identity (and the web)
Composing for the Web, Remixing, and Coding/Scripting allow us to be expressive about our identities. The expression is the WHY of any of this, so directly connected to your own identity. It connects into your personality, motivations, and a mess of thinking skills we need to function in our world. Skills underneath these competencies could be modified to incorporate those emotional and psychological traits of that expression.
Design and Accessibility – Values are inseparable from our identities. I think design and accessibility is a competency that radiates a persons values. It's ok to back burner this if you're being expressive for the sake of being expressive, but if you have a message, if you are being expressive in an effort to connect with other people (which, let's face it, is part of the human condition), design and accessibility is a value. Not sure how I would modify the skills…
Infrastructure – I was thinking that this one pulled in remembrance as a part of identity. Exporting data, moving data, understanding the internet stack and how to adequately use it so that you can keep a record of your or someone else's online identity has lots of implications for remembrance, which I think influences who we are as much as anything else.
Example skill modification/addition: "Exporting and backing up your data from web services" might lead to "Analyzing historical data to determine identity shifts"
That's all for now. I've thought a little about the final strand, but I'm going to save it for next year. I would like to hear what you all think. Is this a useful experiment for the Web Literacy Map? Does this kind of thinking help hone in on ways to structure learning activities that use the web? Can you help me figure out what my brain is doing?
Happy holidays everyone ;)