One of my favorite things about working with Greenpeace is how easy it is to use ship or boat related puns. It's super fun to throw the phrase "Well, we're trying to turn a rather large ship" or something similar into a video conference and watch all my GP peers do a little smile or smirk or eyeball.
Something that struck me in last week's community call was the seriousness in which we said "We're steering a big ship". People at all levels of Greenpeace are talking about how to guide Greenpeace into the future. How we, as an organization, become more flexible, more collaborative, more embracing of failure and change. Change is scary, especially when you've spent several decades sailing in another direction (see what I did there?).
One of the participants in this weeks call was a member of the Senior Leadership Team, so we spent a bit of time talking about some of the problems that staff see inside of Greenpeace. The group was assured that the Senior Leadership Team is talking about how the new 10 Year Strategy should be directing them personally and what that means for the ongoing conversation of changing certain practices.
We talked a bit about Moral Courage. We tried to think of examples of this inside of Greenpeace. Joe theorized that many times when people left the organization, they were showing moral courage.
"They tend to leave because they don't agree with something that's happening, so they're standing up for their personal values."
Others thought that Greenpeacers are quite true to themselves and their opinions. We talked about being impressed by people's willingness to speak out. And there was some pushback on the idea that resignation is a sign of courage. If people can't make their voice heard and they give up, is that courage?
Personally, I think it depends on perspective and situation. I do think that resigning can be a courageous act. But Greenpeace needs to be building a culture of dissent and a safe space for people, so resignation isn't a widespread solution.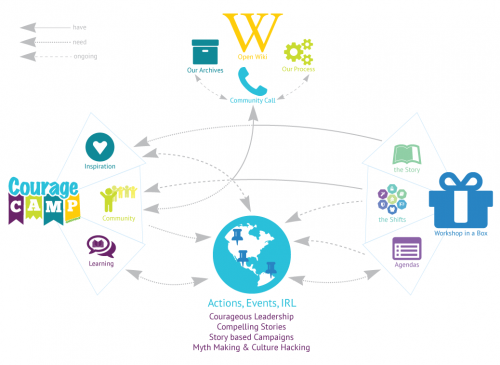 After talking about moral courage and the state of Greenpeace, I ran through a quick overview of what I called "A Map of the Moon". This wiki page contains a breakdown of much of the work I've been doing with the Story team in the last few months. Give it a look, and if you have questions, do feel free to reach out.
We intended to do a larger update on the Greenpeace.org project, but we decided to bump it to the next call. I'll be much more vocal on this particular topic very soon, especially since the Communication Plan and Open Decision Framework I built/remixed was accepted and applauded. If you know you're going to be interested in the design/development of the new Greenpeace.org, follow our Medium Publication. It's empty at the moment, but watch this space!
Come to a future Greenpeace community call and as always, feedback is very welcome and appreciated. Reach out!