The #teachtheweb experience was about gathering people together to learn and share and collaborate. It was about people who care about the web and web literacy and working together to find ways to spread skills to learners. This post is a reflection on the meta structures and processes that created the experience. It's also only mildly reflective of the learning that occurred. These observations completely delude the very human and personal feelings I have towards the #teachtheweb community and all the individuals within it. [Update: Luckily, Michelle nails the human side of this story in her post.]

Although this post is going to sound a bit academic, a couple of my colleagues are going to be writing about the amazing stories and community members that made #teachtheweb so incredibly awesome. And I'm sure I'll have more to say about my newly expanded personal learning network and the KICK ASS MOZILLIANS who participated in #teachtheweb.
After #teachtheweb, I'm working under two assumptions:
There are lurkers in this community. Lurkers are reading, looking, observing, maybe even making things, but they're not sharing in this community, or they're not sharing often.
Activity fluctuates. Some people have time for #teachtheweb all at once or in spurts. Others take a certain amount of time each week. Some people dip in only on certain topics, others are fairly constant throughout.
And three absolute certainties:
Our metric overview is flawed.
It doesn't matter much because people are definitely learning together.
#teachtheweb is an unmitigated success.
Metrics and Multiple Channels
In the #teachtheweb experience, we have multiple channels where people can participate, so we have multiple channels to collect metrics from. Unfortunately, collecting accurate metrics is next to impossible for a couple of reasons:
We didn't get Analytics onto the #teachtheweb site until AFTER the first week (oops.)
The sign up mechanism is connected to webmaker.org/teach, but signing up is not required for participation because everything is open. We cannot differentiate between traffic from participants and traffic from people who never signed up.
People don't always tag their stuff. Sometimes there are typos (e.g. #teactheweb).
We encouraged self created Study Groups (not oops, but a fail if we're talking about metrics). Study Groups may be using other hashtags and special lists. There are several untrackable study groups using private groups, communities, forums, email, etc.
We are sure to miscount membership. There's members vs active members vs people who are also members of the main G+.
Data Viz
Finding better ways to collect metrics and share them as data visualizations would up participation. When people feel like they're alone in their learning experience, they're much more likely to reserve their participation until others join them. People are hungry for social learning experiences, and data viz is an easy way to show learners that they're not alone.
Here's a shoddy infographic on #teachtheweb.
Community and tiers of engagement
At the beginning of #teachtheweb, we talked about three levels of engagement. These levels may eventually be associated with Mozilla Mentor Badges.
Mentor-in-Making (level 1) Be explicit about the agency people have over their own learning by helping them understand there are no deadlines, responsibilities, or criteria for participation. Give them permission to work at their own speed. People aren't used to this. For someone to move from a Mentor-in-Making level to Mentor, community at higher levels need to serve as examples in the way they moderate and mentor. The progression to Mentor is extremely transient – Mentors-in-Making who are enthusiastic about their learning will undoubtedly make resources or run events that fulfill the criteria for the Mentor badge.

Mentor Badge

Mentor (level 2) Progression happens when Mentors-in-Making begin to mentor their peers and creating new open educational resources or run in-person events that teach openness and web skills. Celebration of participation at this level is as important as participating itself. The more interaction the typical learner receives from the community and moderators, the more they participate. Helping mentors understand their own agency in this process is very important as well. Advancing through the tiers of engagement requires people at higher engagement levels actively monitoring and mentoring in the various channels and being examples for their peers. Peer to peer learning and support is integral to sustaining the community. We've launched this level as the first Mozilla Webmaker Mentor Community badge. Apply for your Mentor badge!

Super Mentor (level 3) Inspiring people to advance to Super Mentor status requires a personal touch and an ambient personification of open values. Again, celebration from the community as well as core staff is massively important. At the highest level, the community is looking for collaborators, mentorship and advice from the "experts" in the field. Finding ways to connect Super Mentors with Mentors is important for the cross over from Mentor to Super Mentor. Super Mentors are linked to sustained contribution – be it creating resources for someone else to teach with, running events or mentoring others. We'll be figuring out more succinct criteria and issuing for the Super Mentor Badge in the coming months.
Moderation + Mentoring
Be open from the get-go. Asking active community members to moderate and mentor potential community members displays trust, which leads to empowerment. A mistake to avoid is trying to select only certain community members to contribute to the planning and moderation of the online learning experience. Instead, certain community members should receive personal outreach and asks, but the community as a whole should receive an invitation to contribute.
Content Creation
Asking for "braindumps" was a great way to get a lot of different ideas, but we may have gotten more contribution had we prepared more topic specific questions that helped people formulate their thoughts around base ideas. Keeping the it in an open form, like Etherpad, allowed people to riff off each other's ideas, which made it easier to find patterns and threads.
However, content contributions dropped steadily throughout the nine weeks. Here's a graph: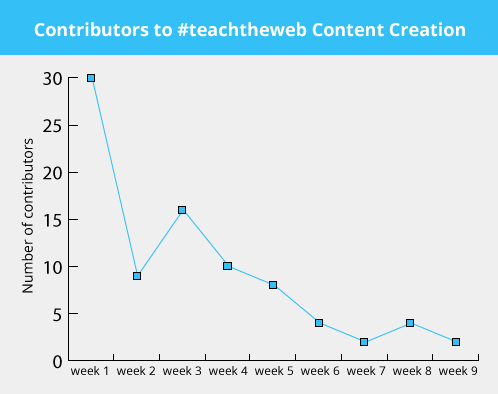 It's draining to do active engagement while concurrently creating content. Because active conversation needs to take place if we want people to move up the tiers of engagement, preparing content and content creation mechanisms in advance is recommended. This procedure can, in and of itself, be an outreach method and works well under specific deadlines.
It might help to ask specific people to contribute to specific things based on interest and expertise. No amount of begging will help in the content creation department though, so be prepared to do the heavy lifting!
Tech
If we intend to do multiple initiatives like #teachtheweb, it would be useful to have a place where all this content can land. WordPress might be the right technology, but our structure needs to change. Having better tools for filtering and connecting the G+ Community to the wordpress structure would be helpful. We might just need to take more time and more expertise setting up wordpress to be more user friendly for online learning.
The G+ firehose is also something to think about. There are pros and cons to using G+. For administration, there is no overview of G+, no substructuring, no archiving and it's difficult to find things (unless you know very specifically what something is called, who posted it, etc). It's a social network rather than a knowledge management system.
Additionally, despite attempts at categories, people don't tag and organize their own posts beyond the default stream. A more useful tool, in my view, would be some sort of a kick ass forum where everyone is together, could separate into groups within the structure, can tag, comment and share. Yes, I'm thinking something specific here.
The facts that we've already built such a large community and that our potential community is likely already using G+ means that it would be difficult to move people from G+ to another system. However, it is something to consider.
If we intend to do multiple online learning experiences like teachtheweb, with a variety of audiences, topics and hashtags – we should think about modifying the existing system to make it easier for everyone to see what's happening in the community without having to invest the hours it would take to get an overview of this experience.
Duration & Modularity
Something that wasn't clear with the #teachtheweb online learning experience is that someone can join in any time. Advertising the experience as "a nine week course" was both true to form and misleading, particularly because we transitioned into Maker Party and aren't actually going anywhere. The only thing that's different now is that we won't send curated content every week. We're still active on twitter and in the G+ community.
Instead of having new topics each week, we might think about having monthly themes. It's lower bar than a 9 week collection of topics, but it means we'll have various groups dipping in and out of content.
#teachtheweb had a comparatively low attrition rate. In #teachtheweb approximately 18% of participants were still active in the final week. This is pretty awesome, considering that the average MOOC has less than 10% of participants in the final week*. This data is mostly speculative because I didn't really take the time to do full analysis week by week of participants and their online actions. I just compared share and tweet numbers between Week 1 and Week 8, if someone wants to do a full analysis, let me know, and I'll share the data I have :)
If we're going to run varying lengths and varying content, we should think about finding a way that this form of work can always tie together, yet stand alone. It has a lot to do with the tiers of participation, and the technology we use to post this content.
Time Boxing Pros and Cons
Pros
lots of excitement and involvement right away
easy to set a rhythm for production, meetings, etc
Cons
people think it ends and, therefore, don't sign up if they feel they are late
no room for schedule shifts
Subversive engagement + humor
Finding ways to joke and play in an online space like #teachtheweb seems really important. Experimenting with subversive +mentioning in G+, random tweeting at people and sharing relevant but goofy things from across the web helps with keeping contribution up. It might not seem like something you need to plan for, but it actually is. Finding humorous and relevant shares and/or makes can be time consuming.
Making
We launched the hackable templates through #teachtheweb. We launched dirty prototypes, and people took them and used them in ways we'd never imagined. These templates have already become staple in Mozteach content. They continue to be an extremely successful model for Mentor content creation.
Make stuff. Give optional readings. Maybe some videos. But focus on making stuff. No discussion to be had. Inspire people to make and then be blown away by what happens.
Tell Me Stuff
I'd love to hear your thoughts on this post and am happy to answer questions. It's a long post, but could have been much longer.
* Referenced from this great project http://www.katyjordan.com/MOOCproject.html
Related articles